Countdown to PanAm Games: Scarlett Delgado
With only six days remaining until the start of boxing at the 2023 Pan American Games, Boxing Canada is pleased to continue its countdown by profiling Canadian Boxing Team athlete Scarlett Delgado. Scarlett represents Canada in the female 54kg weight division and boxes out of SydFit Boxing in Kitchener, Ontario.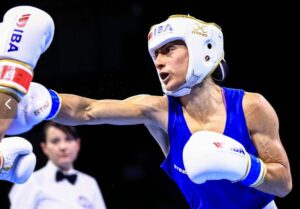 Scarlett's all-time favourite boxer is Julio Cesar Chavez because "his stamina and aggressive/pressure style was so dominating against any other boxer that challenged him." Scarlett's greatest strength as a boxer is "her movement and distance management," the most important thing she has learned from her time as a national boxing team athlete is "to stay present at any moment, controlling what I can control and adapting to changes as necessary."
Scarlett has experience in other combat sports and competed in freestyle wrestling for three years from 2010-2013 but she is most proud of winning two continental championships back-to-back in 2022 and 2023. When asked how she stays motivated to continue boxing, she replied "I'm not driven by motivation because being motivated is a temporary feeling that comes and goes. I don't feel motivated to wake up at 6 a.m. to drive an hour to my gym every morning; however, I'm committed and determined to achieve my goals. I accept I'm going to feel uncomfortable most of the time – it's part of the process that I fully embrace every day because I know not everyone is fortunate to have the opportunities I have. I'm willing to do what I must to achieve my goals."
When not boxing, Scarlett likes to play piano, read, Latin dance, and walk trails." However, she goes on to say that "our sport requires a majority of my time, so there is not a lot of time to do too much extra." 
Scarlett believes that the most important thing that national boxing team athletes must remember is that "as different as we all are, our various life paths have brought us all into the fighting world where we share common ground. We're a lot more similar than we may think, keeping this in mind, we should stand united and proud and protect each other."
Check out the short video interview in this post to learn more about National Boxing Team athlete Scarlett Delgado and learn more about the sport of boxing at the Pan American Games here.