Canada vs Poland: An international Olympic-style boxing event in Montreal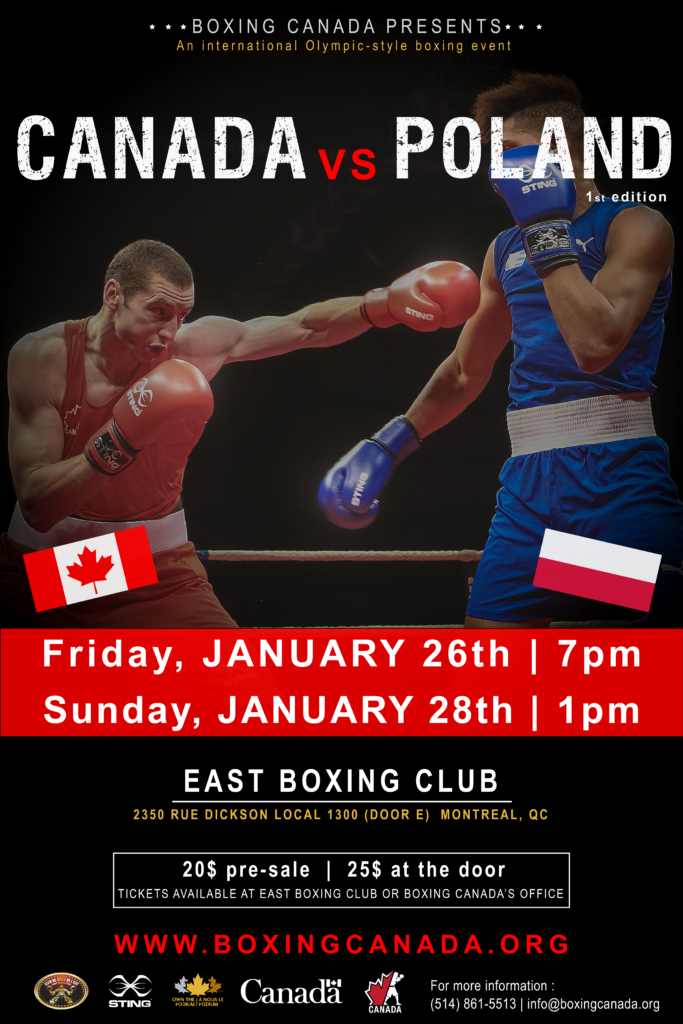 Boxing Canada presents the first edition of an international Olympic-style boxing event, the Canada-Poland Dual Match, an annual competition where various countries will be invited each year to challenge the Canadian delegation. For the 1st edition, Team Canada welcomes Poland's National Team. 
The "Canada vs Poland" programme includes a week-long training camp, culminating in two events featuring eight fights  on Friday, January 26th at 7pm and on Sunday, January 28th at 1pm at East Boxing Club in Montreal, QC.
Having recently centralized the National Team within INS Québec, this boxing event is a springboard for the development of our Olympic sport and it is also a great opportunity for our National Team athletes to measure up against world-calibre boxers.
The public of all ages will be invited to attend these events where the spectators will have the occasion to become more familiar with Olympic-style boxing as our boxers are midway through the Tokyo 2020 quadrennial. 
The Canadian boxers will have the chance to perform before a roaring local crowd, a rare occurrence as most international competitions are held outside Canada. Moreover, Friday night' card will also feature a few local bouts.
The participating boxers for both events will be confirmed next week.
TICKETS
Tickets are available at East Boxing Club as well as at Boxing Canada's office ($20 pre-sale and $25 at the door). Quantities are limited, don't miss the opportunity to see world class boxers in action!  
For more information, please contact Boxing Canada at (514) 861-5513 or [email protected]