Caroline Veyre and Marija Curran reach the finals of the International Boxing Tournament "Balkan"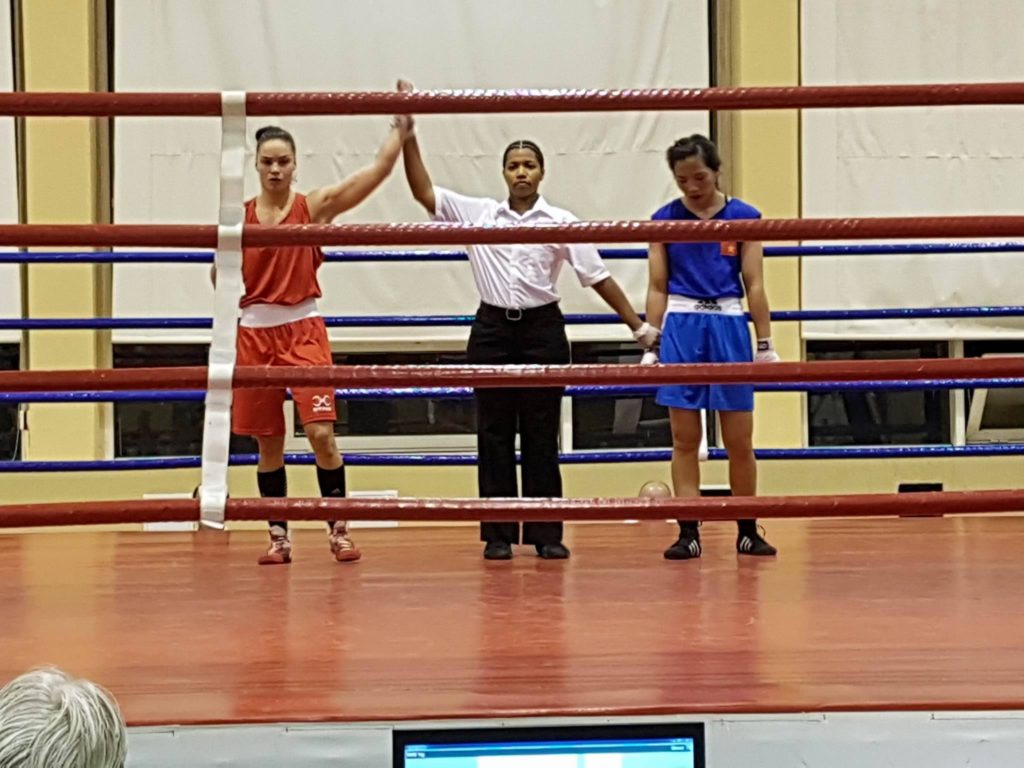 On the third day of competition, it was already time for the semifinal of the International Boxing Tournament "Balkan" where 5 Canadians were scheduled to compete for a chance to reach the finals. Here are the scores from the day in case you missed it:
YOUTH
48Kg Christian Zelenco (CAN)  lost 0 - 5 Emi-Mari Todorova (BUL)
69Kg Charlie Cavanagh (CAN) lost 0 - 5 Patricia Budai (POL)
ELITE
57Kg Sabrina Aubin (CAN) lost 2 - 3 Pwilao Basumatary (IND)
60Kg Caroline Veyre (CAN) won 5 - 0 Tuten Neuyen Thi (VIE)
 81Kg Marija Curran (CAN) won 3 - 2 Viktoria Krylova (RUS)
Caroline Very and Marija Curran are now moving on to the final of the competition and will be fighting for GOLD on Sunday in the hopes to become champion in their weight category! Marija Curran will now compete against another Russian boxer, Liubov Iusupov. As for Caroline Veyre, she will now face Beatriz Jasmin Sonny Ferreira from Brazil, a much anticipated bout as the two faced each other in finals of the AMBC Continental Championships in June. 
Caroline Veyre has now won three bouts by unanimous decision in as many days of competition! "Yesterday, my opponent was agressive and she never gave up. I had to work hard until the end to get the win." mentioned the 60 Kg Canadian representative after the semifinals. "I now have a day off before the finals against the Brazilian who beat me in finals of the Continental Championships and I can't wait the rematch!"
As for Christian Zelenco, Charlie Cavanagh and Sabrina Aubin, the participation in the tournament has come to an end, but they are still coming back from the competition with a BRONZE medal. Congratulations!!
To see the results of the draw, you can visit our Event Web page for more information (schedule, results, and link for live streaming).