Charlie Cavanagh becomes the first ever female Youth World Champion in Canada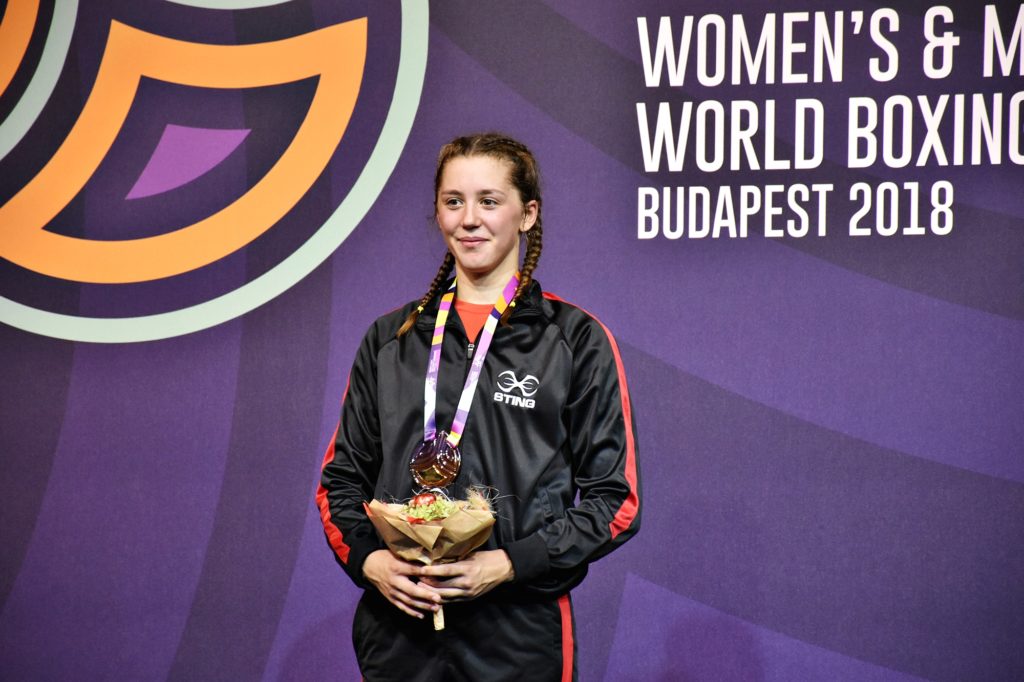 After nine intense days of competition at the 2018 Youth World Championships, Charlie Cavanagh has marked Canadian boxing history by becoming the first ever female Youth World Champion in the 69 kg weight category. After obtaining a bye in the first round of the competition, Charlie cumulated two unanimous victories against Poland in the quarterfinals and England in the semifinals before reaching the gold medal bout, where she squared off against Angelina Kabakova from Russia.
Showing no signs of fatigue, Charlie attacked the bout with energy right from the first bell and kept her Russian opponent at her range with quality punches throughout the bout. Hungry to climb on top of the podium, Charlie fought her hardest despite a few complications with her headgear at the start of the bout and was declared the winner, and Youth World Champion, by yet another unanimous decision of the judges.
"I'm truly on top of the world right now! Being from a small city as I am [Saint John, NB], participating in the Youth World Championships was an accomplishment in itself but as I mentioned before, I didn't come to participate; I came to win," stated Charlie after claiming the Youth World Champion title. "The past two days felt as if they passed in slow motion as I prepared for the final. My mind was racing with thoughts about how my performance would be and my nerves were high. Once I stepped in the ring, all of my anxiety faded away and I felt collected."
"I'd like to thank my coaches; both João and Socrates, the Canadian coaches that accompanied me here, as well as my personal coach Joe Blanchard for teaching the skills I need and for constantly encouraging me to do my best. I'd also like to thank my friends and family for supporting me, my teammates for cheering me on, and most importantly I'd like to thank Boxing Canada for giving me this incredible opportunity," says Charlie Cavanagh.
"Charlie had three exceptional performances at these World Championships! She improved with each bout and fought her best bout against her Russian opponent in the final. We at Boxing Canada are very proud of Charlie and her teammates!" affirms Pat Fiacco, Boxing Canada's President.
Team Canada was represented by a total of four boxers and was accompanied by National Team coach João Carlos Barros and coach Socrates Celestial (Brampton, ON). The youth Canadian delegation took part in a training camp at the National Training Centre in Montreal along with the centralized Elite National Team boxers to finetune their preparation prior to the championships. While the three other boxers didn't progress as far in the competition, they have showcased great skills against the world's best boxers. Indeed, 60 kg Spencer Wilcox (Hamilton, ON) and 51 kg Emelia Dermott (Oakville, ON)'s progression came to an end during the second round of preliminaries while 91+ kg Tethluach Chuol (Edmonton, AB) bowed out in quarterfinals. Chuol will be back on the world stage in October as he will partake in the Buenos Aires 2018 Youth Olympic Games.
"I'm really proud of the Canadian team, they really came together as a group," states Daniel Trépanier, Boxing Canada's High Performance Director. "Charlie Cavanagh's Gold medal at the Youth World Championships is an amazing achievement."
Organized by AIBA, the 2018 edition of the Youth World Championships is taking place August 21st– 31stin Budapest, Hungary and features 359 of the world's best Youth boxers from 65 countries. The 2018 edition of the Youth World Championships is a historical moment in the sport of Olympic boxing as both men and women are featured in the same event for the first time since Sofia 2014. A total of 24 nations have claimed medals during this event.
For all information pertaining to the competition, such as draw sheets, schedule and results, visit on our Event Webpage and as well as the Official Competition Website.