Team Canada grabs four wins in the first 2 days of the 2018 Youth Continental Championships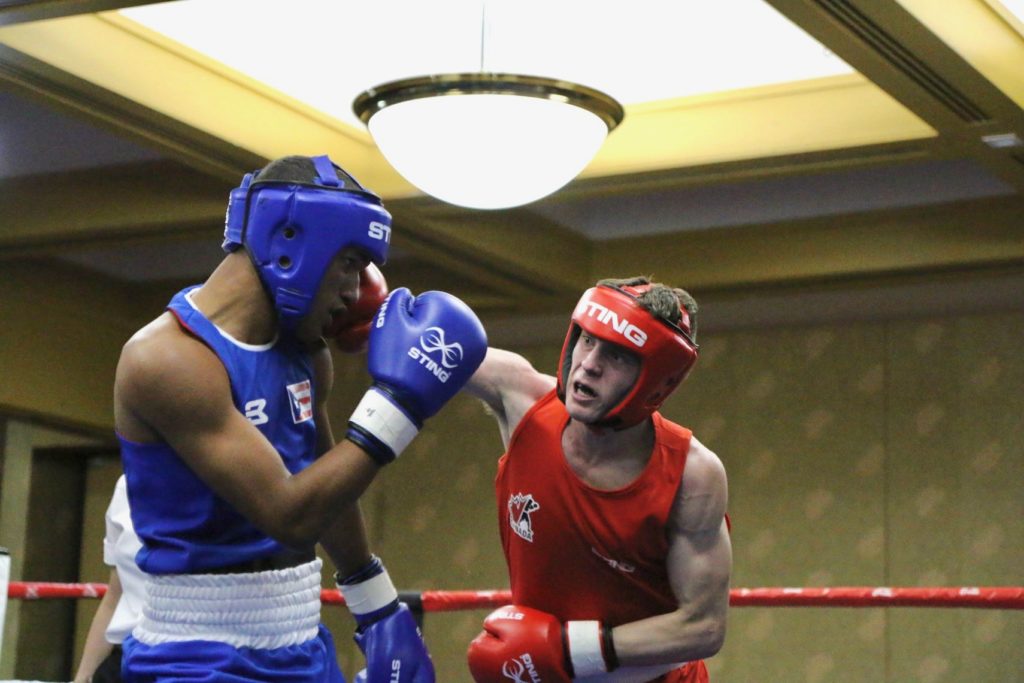 With 14 countries partaking in the 2018 Youth Continental Championships, Team Canada started the competition with strong results in Colorado Springs, claiming four wins in six bouts. Spencer Wilcox (Hamilton, ON) and Derek Pomerleau (Mercier, QC) both made solid first impressions during the first days of the competition. Here's a recap of Day 1 and 2:
60Kg Spencer Wilcox was the first Canadian to step into the ring against Puerto Rican Addiel Perez and after three rounds, was declared winner by abandon. Back in the ring the following day, Wilcox didn't hold back during his quarterfinal bout against Aaron Martijn from Aruba. Although his opponent was fresh from a bye in the preliminary round of the competition, Wilcox stopped Martijn in the first round and was declared winner by RSC (Referee Stop Contest). With two convincing wins, Wilcox is now guaranteed a medal and will be back in the ring on May 24 against Alan Chavez from Argentina in the hopes to attain the gold medal bout. "I was not sure what to expect coming into this tournament," says Wilcox after his two back-to-back victories, "but now, I'm confident I can go all the way and win gold in the lightweight category!"
64Kg Derek Pomerleau also made his debut  during the first day of the competition. For his opening bout, Pomerleau squared off against Michael Martinez and won by unanimous decision against his Puerto Rican opponent.  On day 2, Pomerleau stepped back in the ring against Luis Alexander Castillo Garcia from Guatemala and saw his hand rise as he was declared winner by unanimous decision once again. Now moving to the semifinals, Pomerleau has one day off to recuperate and will be back in action on May 24 against Taiel Chavez from Argentina.
81Kg Satwinder Thind (Brampton, ON) and Katelyn Vanderlaan (Drumbo, ON) have also made their debut in the competition on May 22nd. Unfortunately, the two Canadians will not be progressing further in the competition as Thind lost 0-4 against Armando Perez (MEX) and Vanderlaan lost 0-5  to Brazilian Rebecca Santos.
---
Five more Canadians are making their debut today on Day 3 in the quarterfinals of the 2018 Youth Continental Championships, hoping to secure more medals for the Canadian delegation. "The 2018 AMBC Youth Continental Championships brings together young boxers from all across the Americas and Canada has a strong team of 12 boxers, many of whom are attending their first team major international event," states National Team Coach João Carlos Barros. "This team represents our future in the sport and I see many rising stars!"
Session 4 (12pm MDT - 2pm EST)
49Kg Matthew Fraser (CAN) vs Angel Martinez (USA)
56Kg Avery Martin Duval (CAN) Yan Carlos Santana (DOM)
69Kg James Hughes (CAN) vs Tyron Thomas (TTO)
Session 5 (5pm MDT - 7pm EST)
91Kg William Nike Blackmore (CAN) Andrews Salgado (CHI)
51Kg Emelia Dermott (CAN) vs Brenda Cecilia Rolden Castellano (GUA)
For more information (schedule, draw, results and live streaming, visit our Event web page for all the details.