Team Canada strives for the top 8 on Day 2 of the 2019 Pan Am Games Qualifiers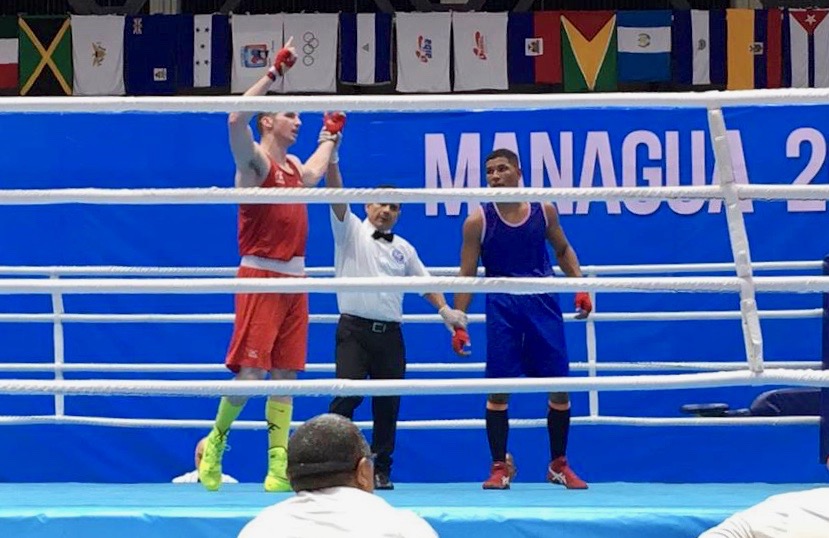 Day 2 of the AMBC Pan Am Games Qualifiers showcased many well-contested bouts as boxers aimed to advance further in the competition. While the preliminary phase is being finalized, the quarterfinals are set to begin on April 6. Over the course of the day, Justin Parina, Wyatt Sanford, Harley-David O'Reilly and Sabrina Aubin are the 4 Canadian athletes that attempted to reach the next stage of the tournament.
Let's have a look at the outcome of their matches:
---
52 kg Justin Parina (Mississauga, ON)
Justin's first bout was a hard challenge from the start as he faced Rodriguo Marte from Dominican Republic. The pair had previously faced each other during the 2019 Independence Cup, a tournament where Marte ultimately was victorious. Although his opponent was tough, Parina boxed a great match and showed good perseverance and grit. Unfortunately, Justin lost his bout by a unanimous decision.
---
69 kg Wyatt Sanford (Montreal, QC)
Wyatt faced one of Brazil's best boxers in his preliminary fight, Luiz da Silva. Both boxers proved to be resilient in a well-fought, but Wyatt fell short to the Brazilian with a split decision of 4-1 that went to his opponent. Although he lost, Wyatt is keeping his head up and staying mentally ready for the rest of the boxing season.
---
81 kg Harley-David O'Reilly (Montreal, QC)
In Harley's first bout, he faced Colombian boxer Diego Motoa. The Canadian proved to be the better fighter, winning his bout with a score of 4-1. O'Reilly set the pace of the match and proved to be comfortable and composed until the end.
"The first bout of the tournament is always the most difficult because of all the emotions and if you don't perform well you can be eliminated right away. However, I'm happy with my performance today and all of the things I practiced in the gym came out today. There's always room for improvement but what matters now is tomorrow's fight. I'll make sure to work on the mistakes I made today and I'll focus on the stuff I did right. I'm confident I can win and reach the semifinals."
O'Reilly is set to fight Dominican fighter Luis Georges in quarterfinals tomorrow. This is the second bout they will have, and Harley is confident he will come out with the win.
---
57 kg Sabrina Aubin

(St-Jean-sur-Richelieu, QC)
Sabrina came out of her first Qualifiers match in great fashion with a convincing unanimous decision against Paraguayan boxer Montiel Minerva. Right at the start of the bout, Aubin put emphasis on the pace and tone she wants to set in every round of the tournament. She was able to be herself and control the fight.
"I broke the ice well and started strong in a well-fought fight. I was able to keep that rhythm the whole time. I have to do the same thing against Nicaragua because I'll be fighting the judges and the crowd too, so I need to bring my A game. Now that the first bout is done, I'll be myself more and feel more in control. Simply put, I want to win every round unanimously so there's no doubts who won. I have to keep focusing, I'm aiming for the gold medal over here and I'm very excited to perform again tonight."
Sabrina's goal of winning is clear, she is confident in her capabilities. This victory set her for a quarterfinal match tonight, best of luck in her next bout.
---
Myriam Da Silva and Nickenson Denis will make their debut later today, a victory would mean advancing to the top 8 of their respective categories.
SESSION 12
-Bout #118 69 kg Myriam Da Silva vs. Kimberly Gittens (BAR)
SESSION 11
-Bout #103 75 kg Nickenson Denis vs. Hebert Da Conceição (BRA)
Both Irene Fiolek and Tammara Thibeault have yet to make their debut in the quarterfinals as they received 1st round byes.
Irene will face Maria Palacios (ECU) on April 7th.
Tammara will face 

Flavia Teresa (BRA) on the same date.
Finally, Bryan Colwell and Sabrina Aubin will engage in their quarterfinal matches tonight.
Bryan will face #1 ranked heavyweight Savon Erislandry (CUB)
Sabrina will face Keylin Reyes (NCA)
---
The Day 3 bouts will begin later tonight. For all information regarding the competition (schedule, results, draw sheets, etc), consult Boxing Canada's event webpage throughout the tournament. All the best to Team Canada's pugilists.