Two Canadians make their debut on Day 1 of the 2019 Pan Am Games Qualifiers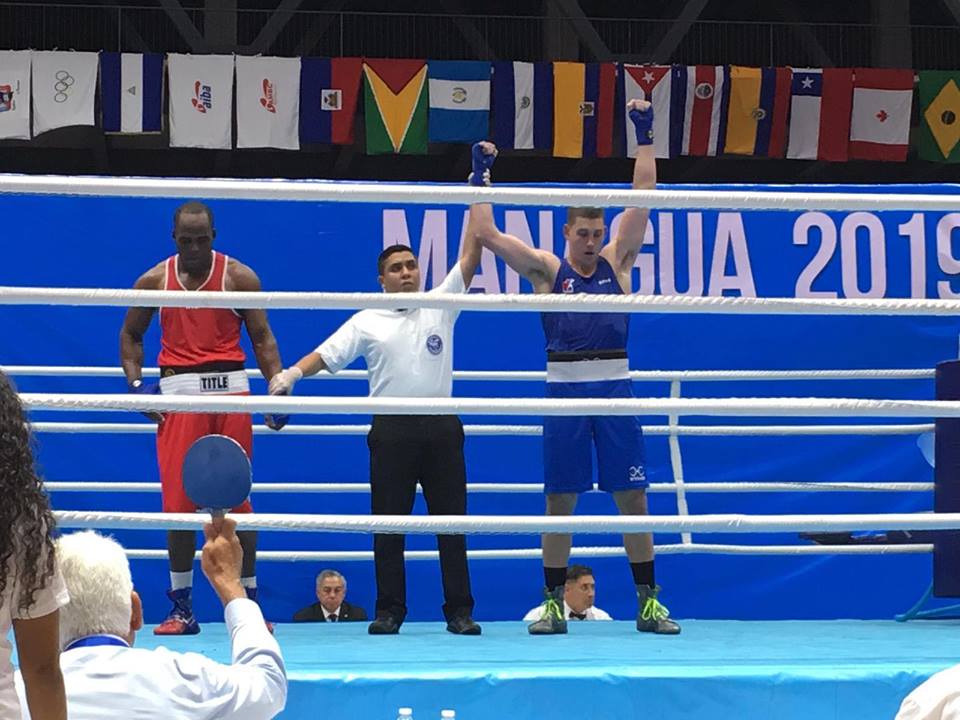 The AMBC Pan Am  Games Qualifiers have officially started yesterday, with athletes from 32 nations across the Americas. Note that boxers who reach a top 8 spot in their respective weight categories will qualify for the Lima 2019 Pan Am Games this summer. Team Canada's Sara Haghighat-Joo and Bryan Colwell were the only Canadians who engaged in their preliminary bouts on day 1, hoping to advance in the tournament. Here's a quick recap of their performances:
---
51 kg Sara Haghighat-Joo

(Guelph, ON)
In Sara Haghighat-Joo's first bout, she faced off against Ingrit Valencia, the world's current 10th ranked boxer in her weight category. Unfortunately, Sara was on the losing side of a 5-0 duel, where the southpaw from Columbia showed solid boxing skills.
"Unfortunately my tournament ended early losing to the current Olympic-bronze medalist.  I feel like my skills are there with them, I'm simply lacking the experience and I know that this is just one more step for me to close the gap. Much respect to her for coming out the better boxer. All I can do now is take it in and look forward to the next one because there's always more and at the end of the day, I am a fighter."
Although Sara's Pan Am experience was short, she is still motivated to bounce back and represent Canada at the highest level in the near future.
---
91 kg Bryan Colwell (Victoria, BC)
In his first bout of the tournament, Bryan Colwell faced off against Nicolas Rubens, a southpaw boxer representing Haiti. In a solid display of discipline and execution, Bryan wins his preliminary dual (5-0) in a convincing manner.
"It is an amazing experience to represent Canada internationally. Haiti was a very tough opponent, but all the hours in the gym with my coach Rich Lestage paid off. I stayed on the outside and fought a smart fight against a tough southpaw and consistently scored to the body. Now I am in the top 8 and I fight the number 1 ranked heavyweight in the world Savon Erislandry. With only 40 fights I get to test myself against the best on the planet, I can't wait, my legacy is just beginning"
With this victory, Bryan advances to the quarterfinals scheduled on Saturday, where he will be facing current #1 ranked heavyweight boxer Savon Erislandry from Cuba. Make sure to tune as we wish Bryan good luck for one of the toughest challenges he will face in his boxing career.
---
On Day 2 of the competition, 4 members of Team Canada are set to play out their preliminary bouts later today (April 5). Make sure to support our athletes, here are the performances to watch today:
SESSION 5
– Bout #5: 52 kg

Justin Parina

vs. Rodrigo Marte (DOM)
SESSION 6
– Bout #8: 69 kg

Wyatt Sanford

vs. Luiz Da Silva (BRA)
SESSION 7
– Bout #7: 81 kg

Harley-David O'Reilly

vs. Diego Motoa (COL)
SESSION 8
– Bout #8: 57 kg

Sabrina Aubin

vs. Minerva Montiel (PAR)
As for the remainder of Team Canada pugilists, they are expected to make their debut in the competition over the coming days:
69 kg

Myriam Da Silva's

 preliminary bout will be held on day 3 of the tournament during the evening session against Kimberly Gittens from Barbados, hoping to advance to the quarterfinals.
 

75 kg

Nickenson Denis

was granted a first round bye and will face Hebert Da Conceição for his first bout of the tournament on April 6th as well.

60 kg

Irene Fiolek

was equally granted a first round bye and her opponent has yet to be determined between Maria Palacios (ECU) and Kiria Tapia (PUR). The bout will take place on April 7th.
75 kg

Tammara Thibeault

 

will debut her tournament in quarterfinals along with the rest of her weight category. She faces off against Flavia Teresa from Brazil, on April 7th. 
---
For any further information concerning schedules, draw sheets and results, make sure to visit our Event page as documents will be updated throughout the competition. Best of luck to Team Canada as the 2019 AMBC Pan Am Games Qualifiers continue!