Two Medals for Team Canada at the IBA Women's World Championships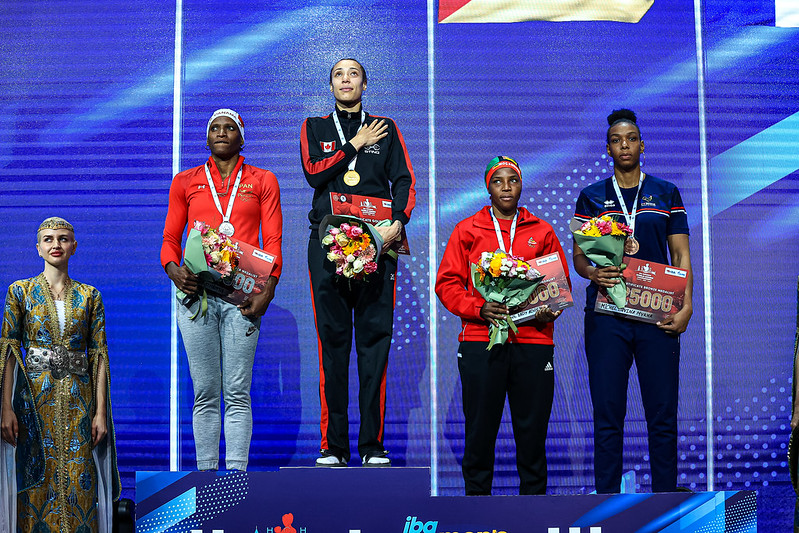 Team Canada came home with one gold and one silver medal from the IBA Women's World Championships in Istanbul, Turkey, ranking sixth out of the 73 nations that completed. Four boxers proudly represented Canada at this competition, three of them for the first time. Charlie Cavanagh (66 kg) took home the silver medal while Tammara Thibeault (75 kg) earned the gold. Below is a summary of each boxer's performance.
48 kg Priyanka Dhillon
Priyanka opened the tournament for Canada against Kazakhstan's Alua Balkibekova. Priyanka put up a good fight, but her more experienced opponent came out on top by unanimous decision. Priyanka is the first woman from Manitoba to represent Canada at the World Championships.
"I'm super honoured to be able to represent Manitoba and Canada."
54 kg Scarlett Delgado
Following a first-round bye, Scarlett came out strong with a 5-0 win against Australia's Rachael Kavanagh in the Bantamweight category in which 34 boxers were registered. Following her win, she had a close battle against Kazakhstan's Dina Zholaman, but ultimately lost by split decision. Nevertheless, her first World Championships was one to be proud of.
"I'm more than grateful to be on this world stage, working with these athletes that have been here for years. And now I really feel that I belong at this stage, I just need to keep pushing forward and let everything come together."
66 kg Charlie Cavanagh
Charlie's road to the finals was a hard-fought one, after three 3-2 (vs. Wales, Puerto Rico, and Algeria) and one unanimous decision (vs. Cape Verde) wins, Charlie met Busenaz Surmeneli of Turkey in her first World Championship final. She put up a good fight against the reigning Olympic champion, but ultimately the referee stopped the contest at 2:17 into the third round.
"Everything's coming full circle. Four years ago, I was the underdog at the Youth World Championship, and four years later, here I am, fighting for gold in the Elite World Championship. I am so thrilled to be able to put up five great fights for my country."
75 kg Tammara Thibeault
Tammara improved from her bronze medal in 2019 by securing a gold medal for Canada. Following unanimous victories over the USA, Australia, and Mozambique, she faced Athenya Bylon of Panama in the final. This was a rematch of the 2022 Continental Championships, where Tammara came out on top for the gold medal
"I've been living this dream for a long time et now that I've accomplished it, it only motivates me more to be better and to make history for my country. I am extremely proud and happy. I'd like to thank everyone who's supported me in my journey. This isn't the end; it's just the beginning."
The athletes weren't the only Canadians with success at the tournament. Jennifer Huggins of Ontario was named best Referee & Judge of the Women's World Championships.
For all results and details from the 2022 Women's World Boxing Championships, visit our Event web page.