Youth boxers to compete at AMBC Continental Championships
Boxing Canada is excited to announce the youth team joining the elite athletes competing at the Continental Championships held from August 1st to 9th in Cali, Colombia.  
A youth selection camp took place at the INS earlier in May 2023. Based on different criteria and standards to be met a panel of experts decided collectively on the athletes who should move forward and represent Canada in Cali.
SportData Page (schedule, results)
The following athletes will be representing Canada in Cali:
Category

Boxer

Province

Home Club

Coach

50kg

Maxim Lessard

QC

Stephane Monast

52kg

Lola Brouillette

BC

Jesse Pineiro

54kg

Ella Meredith

BC

John Meredith

57kg

Victoria Vergos

ON

Spencer Wilcox

60kg

Alessia Mansueto

QC

Moe Latif 

63kg

Britynn Carter

BC

Wally Dorne, John Meredith

48kg

Lennox Lalande

QC

Emilien Boucher

51kg

Antoine Caillouette

QC

Mathieu Dion

54kg

Karan Sembhi

ON

Ajaz Khan

57kg

Jeremy Drapeau

QC

Eve Fortin 

60kg

Jullian Wilson

NS

Peter Martell

63,5kg

Owen Paquette

ON

AFT Top Glove Boxing
Academy

Sebastian Cordova,

Darryl Paquette

67 kg

Wail Monthy

QC

Giuseppe Moffa
71kg               Vincent Santoriello                   QC                 Club de Boxe de l'Est                            Patrice Volny
75kg               Parminder Pannu                     ON                   King of the Ring                                       Ajaz Khan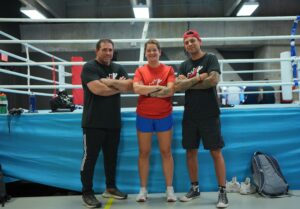 Coaches Sebastian Cordova, Eve Fortin & Jesse Pineiro will be supporting the team in Cali.
"We are very excited to be sending a team to the AMBC Youth Continental Championships. I know that the post-Covid boxing restart has been slow in Canada and this competition is a great opportunity for our Youth National Team to shine." Kraig Devlin, HPD Boxing Canada.